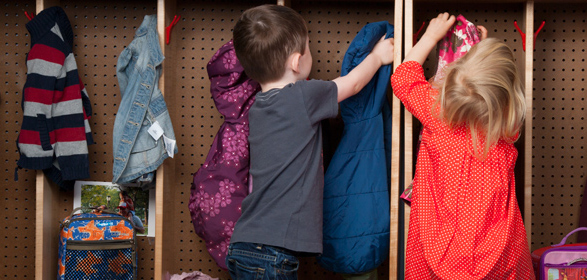 Twos, Threes and Fours Core Program
The core nursery programs are the heart of Open House. We begin in mid-September and end in early June. There are breaks for Christmas and New Year's, mid-winter, and in spring. The children are grouped by age and the days and hours they will be in attendance. Our class groups are small and staffed by experienced, professional early childhood educators. We value partnerships with families because the input we receive helps us to comfortably meet the changing needs of each child.
At the heart of our philosophy is a belief that children learn best by playing and doing in a thoughtfully prepared environment. This developmental/interactive approach shapes every aspect of our school, from our curriculum planning to the arrangement of the classroom spaces. Each group follows a lively, but familiar daily routine which includes ample "choice time" periods. During this part of the day, children are offered an array of activities to choose from and are encouraged to play, explore and learn, while sharing their experiences and responding to the experiences of others. This approach allows children to be both self-directed and adult-supported.
Our thorough understanding of child development keeps us grounded, while our optimistic belief in the possibilities of each young person allows us to soar. We hope to give each child a confident sense of his or her own uniqueness and an appreciation of the uniqueness of others. Out of this respect given to individual differences we find a joyful, productive community is created, as well as an environment that keeps children eager to learn.